With the weather starting to cool down this will be the perfect winter warmer.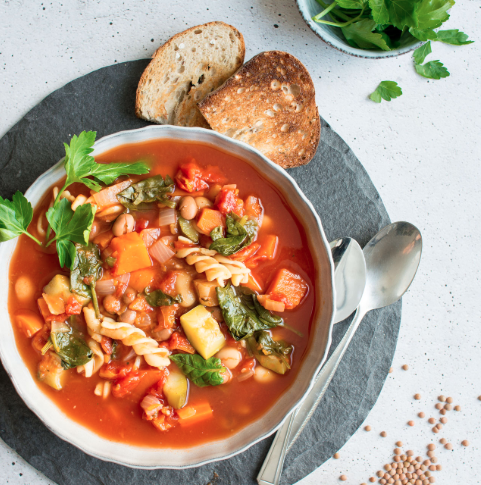 Ingredients:
450g Zucchini
2 sticks of celery
8 tbs Extra Virgin Olive Oil
45g butter
3 onions thinly sliced
4 carrots diced
225g potatoes diced
115g french beans
170g shredded cabbage (Savoy)
400g can of Cannellini Beans
1.5 Lt of broth or water
6 tablespoons parmesan cheese
170g tinned plum tomatoes
salt
Method:
In a large saucepan place oil, butter and sliced onions. Cook the onions until pale gold over a medium to low heat.
Add diced carrots and cook for 2 – 3 minutes. Then add celery stirring another 2 or 3 minutes, followed by potatoes, french beans, zucchinis and shredded cabbage in 2 – 3 minute intervals.
Add broth, tomatoes and salt. Bring to the boil and let simmer for about 2 hours, then add cooked cannellini beans – cook for a further 30 minutes.
Add salt to taste. When soup is ready swirl in the grated cheese.
Buon Appetito!
Special Tip:
This recipe will keep for several days in a tightly sealed container in the refrigerator.