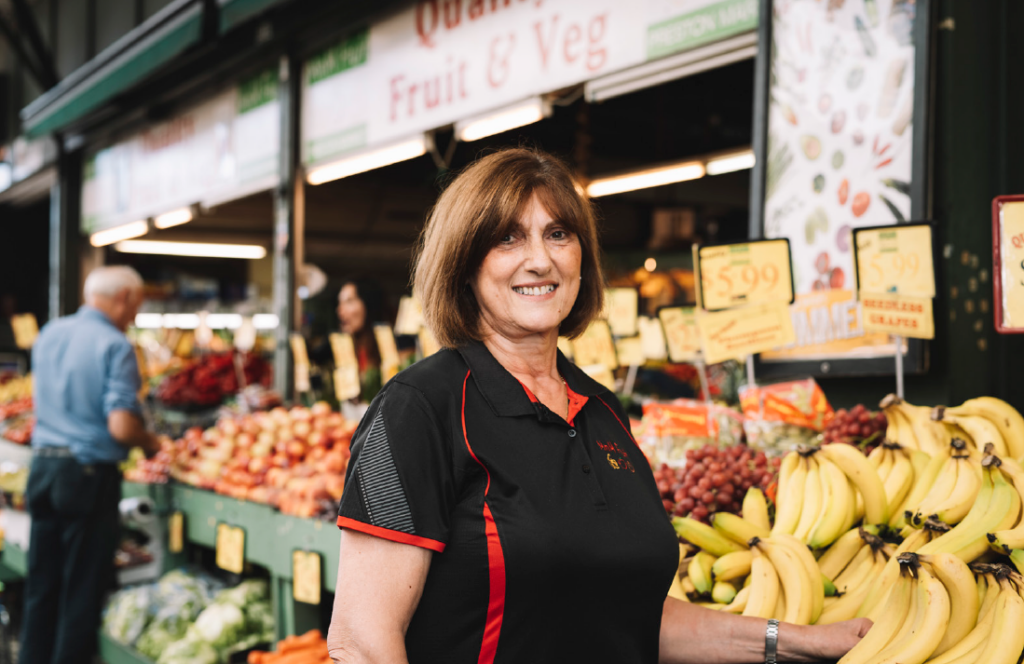 ABOUT CARMEL MADAFFERI FROM MNM FRUIT
M n M Fruit is a family business. My husband Leo and I run the business together with my son-in-law Domenic Mollica and my daughter Julie Mollica. The name is derived from both of our surnames, which commence with M. This year, we have been at Preston Market for 12 years. We all enjoy meeting so many people at the market and having weekly chats with our regular customers. We get pleasure out of sharing our cooking ideas, recipes and giving our customers tips on selecting their produce.
We love the market atmosphere and seeing families come out for an enjoyable shopping experience. We also love that, in the time we have been here, we have seen some of our customer's babies grown into high school kids! We love cooking with all our fresh produce because there are endless recipes you can create, all of which are healthy as well as delicious!
THE RECIPE
Serves 4

Ingredients:
Base Tomato Sauce:
1 medium onion, finely chopped
1 tbs olive oil
750ml passata (see Tip)
Salt to taste
¼ cup chopped fresh basil
2 large red capsicums (peppers), core and
seeds removed and cut unto 4
Extra olive oil for frying
METHOD
To make the Base Tomato Sauce: Heat a saucepan
over medium heat, add oil and fry onion until softened.
Add passata, salt and basil and bring to boil. Reduce
heat, cover and simmer gently until sauce has cooked
down and flavours have infused, 1-2 hours (see Tip).
Heat a large frying pan over medium-high heat, add
a little oil and add capsicum, skin side down. Reduce
heat to medium, cover and cook until capsicum is
softened and blistered.
Remove pan from heat and transfer capsicums to a
plate. When cool enough to handle, peel off the skin.
Chop or slice peeled capsicums thinly and add to
sauce. Cook until sauce thickens, 10-15 minutes. Check
the seasoning and add salt to taste. Use at once to toss
through freshly cooked pasta or whip up other
tasty recipes.
Tips:
Tips: To make your own passata, wash 2 kg ripe tomatoes and cut a slit at the top of each one. Place in large saucepan and add 1 cup water. Cover with lid and cook over medium heat until softened, about 5 minutes. Remove pan from heat, drain excess liquid and discard. Press tomatoes through a mouli to remove skin and seeds.
Carmel's Base Tomato Sauce is so versatile she advises you make a large quantity when you have time and freeze some in batches as the base for delicious sauces like this one. Roasted Red Pepper Sauce is a delicious sauce to put over any type of pasta. Carmel's family also loves it spooned over schnitzel and grilled with mozzarella until just melted. To make Mini roasted red pepper, feta and basil tarts: Use a 6.5cm scone or pastry cutter to cut prepared puff pastry into disks and line mini muffin pans. Add a little grated cheese, chopped fresh basil, a spoonful of the sauce and tiny cubes of soft feta. Bake until pastry is cooked and golden and serve hot or cold.