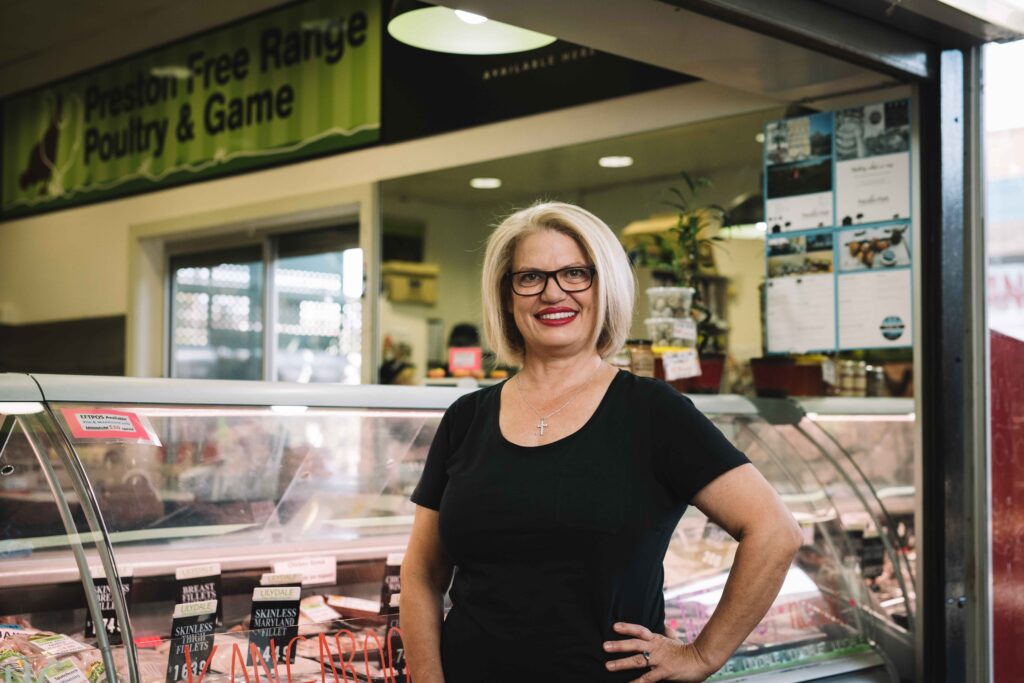 ABOUT BETTY VEKIARELLIS FROM PRESTON FREE RANGE POULTRY AND GAME

In 2005 my husband Dimitri bought an established business in Preston Market, called Dimitris Fresh Poultry, which was one of six poultry stores at the Market. In 2008, after working for 25 years in sales in the corporate world, I took a redundancy package and joined my husband at Dimitris. In 2011 an opportunity appeared to offer something unique to Preston Market and I established Preston Free Range Poultry and Game. The first 12 months were very difficult as the public were very unsure about cooking game
meat, however, with my husband's support, I persisted, feeling that once customers tried it, they would come back.
I've cooked every product available in our shop and am always happy to share cooking tips with our customers. I pride myself on providing the freshest produce and exceptional customer service with a big smile.
We love Preston Market because it is a REAL people's market. The customers care about the community, as we care about them. We like to get to know their name and be able to share recipes and life stories.
THE RECIPE
Serves 4

Ingredients:
1 kg kangaroo mince
1 1/2 cups fresh breadcrumbs (see Tip)
1 onion, finely diced
2 tbs chopped fresh mint
2 tbs chopped fresh parsley
2 tbs dried oregano
1 egg
Salt and pepper
Olive oil for cooking
To Serve:
Lettuce leaves, washed and dried
Cherry or baby truss tomatoes, sliced
Roasted garlic aioli or tzatziki sauce
METHOD
Mix all ingredients together in a large mixing bowl
until well combined and roll mixture into small balls.
Heat a frying pan over medium heat and add enough
olive oil to thinly cover bottom of pan. Cook meatballs
until nicely browned (see Tip).
Remove meatballs from pan and drain on paper
towels.
Serve meatballs in lettuce cups topped with tomato
slices and garlic aioli (see Tip).
Tips: Use gluten free breadcrumbs for those with gluten intolerances. Remember kangaroo is very lean, so take care not overcook meatballs to prevent them from becoming dry. You can use tzatziki sauce instead of the aioli. Try using this recipe to make patties and serve in a bun with your favourite burger toppings.