Anna Farinacci has shared her Easter Chocolate Cheese Cake recipe.
Image sourced from https://www.freepik.com/free-photo/homemade-newyork-cheesecake-with-frozen-berries-mint-healthy-organic-dessert-top-view_8886160.htm?query=cheese%20cake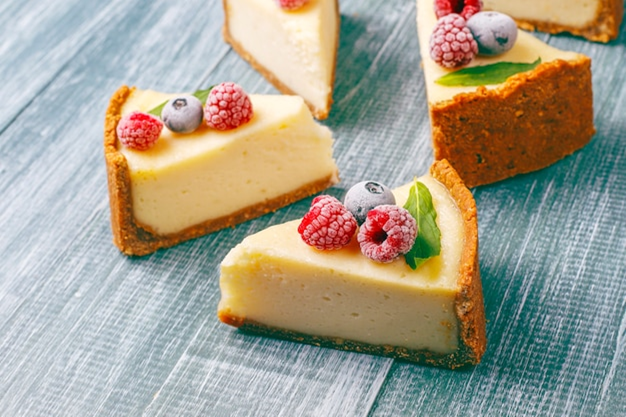 Anna's Greek heritage and her husband Pino's Italian heritage has allowed the two to celebrate both Catholic and Orthodox Easter with their families. Here is a recipe that Anna uses for her Catholic Easter celebrations.
Ingredients
1 teaspoon of baking powder
¾ cup of cocoa powder
3 cups of plain flour
1 ½ teaspoon of bicarb soda
2 cups of caster sugar
100 grams of white chocolate
250 grams of cream cheese
¼ cup of caster sugar
1 egg mixed with1 teaspoon of vanilla extract
1 cup of vegetable oil
2 eggs lightly beaten
1 cup of buttermilk
1 cup of warm water
Instructions
The base
1. Preheat oven to 170°C.
2. Grease a cake tin or cake ring.
3. Sift together flour, baking powder, bicarb soda and cocoa powder into a large bowl.
4. Stir through the 2 cups of sugar and make a well in the centre.
5. Combine oil, water, eggs and buttermilk in a jug. Add to dry ingredients and stir to combine. Then pour half the mixture into you selected cake tin.
The centre
1. Mix together cream cheese, ¼ cup of caster sugar and egg mixed with the vanilla extract. Spread on top of the cheese cake batter.
2. Add remaining batter on top and sprinkle chopped white chocolate over the top.
3. Bake for 1 hour.
4. Once baked, let cool down down and dust with icing sugar.
Buona Pasqua! – Happy Easter