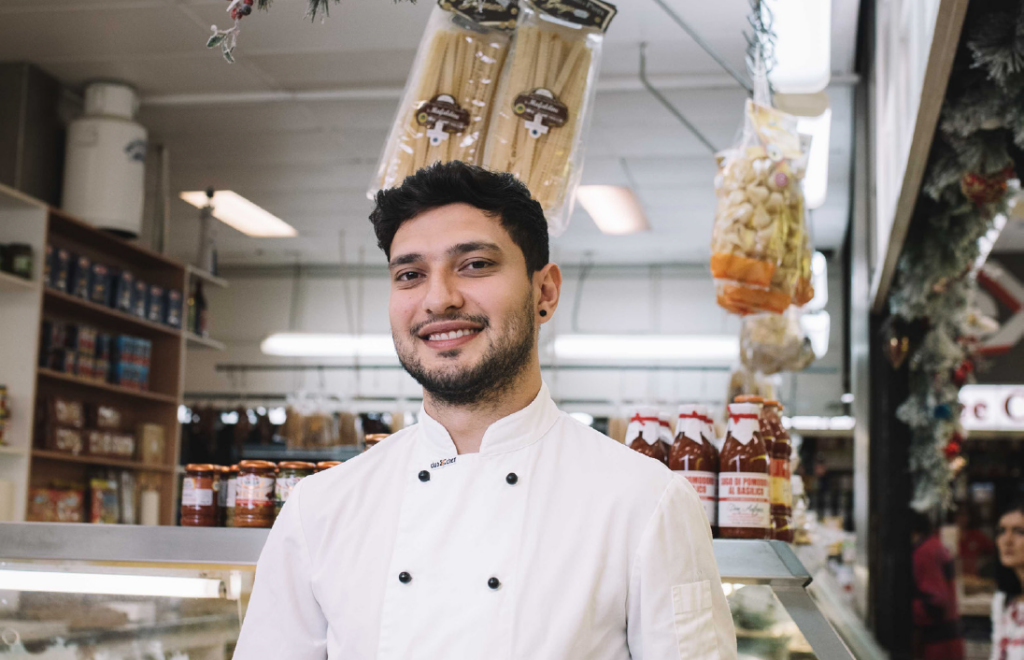 ABOUT KRISTIAN GANDOLFO FROM MARILUCI @ PRESTON MARKET

The Mariluci brand was created by my mother, Maria Gandolfo, who has run the industrial kitchen and outlet in Reservoir for 15 years. At 25 years of age, I have owned Mariluci @ Preston Market for close to 3 years. My mother started the business after splitting a partnership to pursue quality rather than mass production. That's what we pride ourselves on, giving the community the taste of the food that we grew up with. Today we have the two stores running with a third specialty pasta store currently in construction at Preston Market. Our main products are mostly based on my grandfather Pasqualino's recipes. In fact, his traditional Bolognese Arancini was the driving point of the entire venture!
The Market is going to be the focal point of our business going forward as we believe it's the central fresh food hub of the northern suburbs and we hope that our new store can be the new fresh face of such a longstanding traditional market. Our goal is to further develop our product range and satisfy our community's palates for many years to come.
THE RECIPE
Serves 4

Gnocchi:
100g baby spinach leaves
1kg fresh ricotta, drained well
200g Reggiano parmesan chees
6 egg yolks
Finely grated zest of 1 lemon
½-1 tsp nutmeg
Salt and pepper to season
200g white flour

Sage burnt butter sauce:
120g butter
12 sage leaves
To serve:
Additional Reggiano parmesan cheese,
finely grated
METHOD
Bring a pot of salted water to the boil and blanch
spinach leaves for 30 seconds. Remove spinach and
transfer to a bowl of iced water to prevent further
cooking. Drain spinach, squeeze out water and then
roughly chop (see Tip).
Place ricotta, parmesan, spinach, egg yolks, lemon
zest, nutmeg, salt and pepper in a mixing bowl.
Using a wooden spoon, mix lightly, gradually adding
enough flour to bring mixture together (see Tip).
Once it has reached the required consistency, taste
and season with salt and pepper.
Spoon out 1 tablespoon of the mixture at a time into
floured hands and roll into a ball. Place each one
on a well-floured surface until all are prepared and
ready to boil.
To make Sage Burnt Butter Sauce: Heat butter in
a large frying pan over low-medium heat and add
sage leaves, swirling the pan until the butter is
foaming and golden and sage becomes crisp, about
2 minutes.
Bring a large pot of salted to the boil and cook
gnocchi in two batches until they rise to the surface,
about 5 minutes (cooking time may vary depending
on consistency of the gnocchi). Using a slotted
spoon, immediately remove gnocchi and add to pan
with sage burnt butter sauce, tossing to coat.
Serve hot, topped grated parmesan.
Tips: When preparing spinach make sure you squeeze out all the water to prevent gnocchi from becoming too wet. When preparing gnocchi, give or take amount of flour as the consistency can only be measured by touch and take care not to over work the mixture or it will become tough.