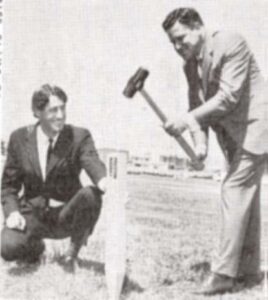 Mayor Larkin laying the first peg in the building of Preston Market, Oct. 1969
The traditional owners of Preston (the suburb) were the Wurundjeri people. In 1837 a surveyor/ artist named Robert Hoddle surveyed the land. Hoddle's surveying lead to changing the once farming and grazing suburb into a more industrially used area in the late nineteenth century. There were around twenty tanneries operating in Preston including the Broadhurst Tannery which was constructed on the Preston Market site in 1888.
After World War II, migrants from all around the world arrived in Victoria making Preston their new home. These migrants included Greek, Macedonian, Italian, Middle Eastern, Vietnamese, Chinese, Sri Lankan, Somali just to name a few.
The birth of the Preston Market was thanks to Polish migrants Leon and Lola Jolson. The two lived in Carlton and owned a real estate agency in East Prahran with a dream to build and operate a market. The construction phase began in October 1969 with Mayor Larkin laying the first peg onto the Preston Market site. Barry Pierce (architect), Noel Henderson (quantity surveyor) and David Rayson (builder) were the three masterminds behind the overall completion of the market. The official opening was in 1970; a time where shopping centres were being constructed as enclosed spaces with air conditioning and heating. Since the opening, the market has been operating continuously with a clear multicultural presence.
Although most markets are owned by local councils, Preston Market has and continues to be a privately-owned market. The current owners purchased Preston Market in 2004. However, there are still a small amount of stalls which are privately owned by individual stallholders. In 2020, Preston Market celebrated it's 50th birthday.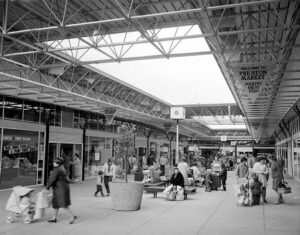 Preston Market in the 1970's