Delicious, refreshing and the perfect summer treat! This simple recipe is perfect for the you and the kids to make together these Summer holidays.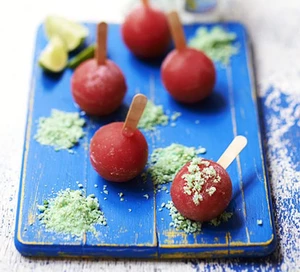 INGREDIENTS
900g diced, skinned and deseeded watermelon – fiddly but worth it
2 tbsp granulated sugar
5 tbsp lime juice (you'll need about 3 limes)
2 tbsp grated ginger
green popping candy , to serve (optional- see tip, below)
Lolly moulds – any shape will work
DIRECTIONS
1.Put the melon, sugar, lime juice and ginger in a blender (or use a stick blender) and whizz until smooth. Skim off any fluffy stuff, then divide between ice lolly moulds and freeze overnight.
2.When you're ready to serve, remove the lollies from their moulds and dip into popping candy, if you like, or see tip, before tucking in.
---