Manny from Nicks Proud Chicks has been a long time tenant of the preston market. He has been kind enough to share some useful tips on how you can use a whole chook. This is a great way to limit food wastage. Read below to find out more!
The most obvious benefit to buying a whole chicken is that it's cheaper, and you can use all the different parts to make various types of meals… There are many great things that you can do with a whole chicken without even having to cut it up, roasting or smoking it whole are the most popular.
Here are some simple instructions on breaking down the chicken, and meals ideas to help you use the whole chicken and save $$$. Cutting up a whole chicken is easier than it sounds. It will only takes you a few minutes, however if your not really sure, we can do it for you. And it only takes a few steps.
Cut through the chicken breast,
Cut off the back bone.
Separate the breast and the thigh.
Separate the thigh from the leg.
Cut off the wings from the breasts.
You will end up with 2 x breasts. 2 x thighs, 2 x drumsticks, 2 x wings, plus the chicken bone.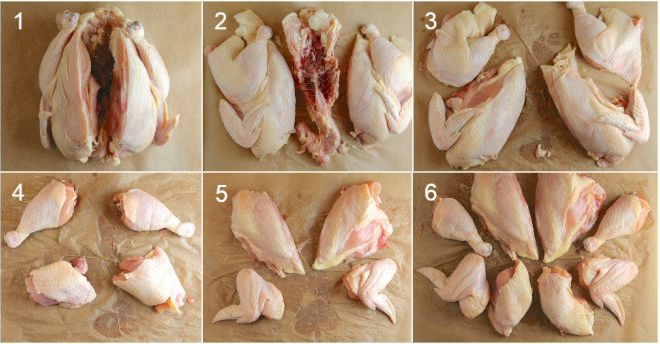 Here are some different meals you can cook using a whole chicken:
1 ) Chicken Breast – Filled with protein, the white meat is easy to cook, taking only about a few minutes to soak in the various flavours of herbs & spices or veggies. You can use the Chicken breast to create meals like, cacciatore, schnitzel, mascarpone, pesto chicken, chicken villeroy, chicken nuggets or kiev, pad thai, chicken risotto, chicken curry and many more.
2 ) Chicken Drumsticks – my kids love them for lunch, easy to eat and cooked with a honey soy glaze, you can guarantee their lunchbox is empty when they get home. You could also, crumb them like Kfc, bbq them with your favourite spices, marinate them for an oven roast, or chop them up for your curry or soup dish.
3 ) Chicken Thighs – Many people love this cut, for its versatility and flavour. Use in roasts or BBQ, rice or pasta dishes, schnitzel or souvlaki. You can create meals like, Thai chicken curry with pineapple , Korean fried chicken, oyster sauce chicken, chicken tagine, honey garlic chicken with rosemary, creamy slow-cooked chicken curry.
4 ) Chicken Wings – Baked, BBq'd, Fried, marinated or crumbed, endless possibilities with these all time favourites. – buffalo wings with blue cheese sauce, honey soy wings with white rice, Korean chicken wings, garlic parmesan wings, slow-cooker buffalo ranch wings , smokey grilled chicken wings, baked lemon-pepper wings, slow-cooker BBQ chicken wings, spicy southern fried chicken wings
5 ) Chicken Bones – Create a hearty soup or a delicious bone broth to keep your insides warm during the cold winter
A Message from Manny: " If you need anything else, the staff at Nicks Proud Chicks are more than happy to help…just ask us !! "