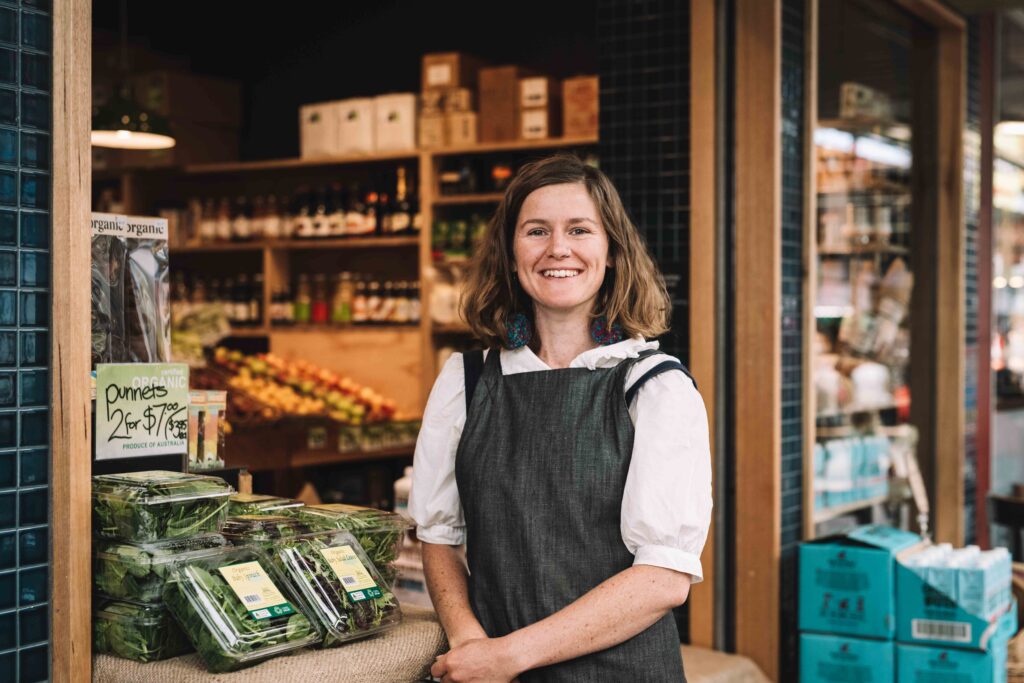 ABOUT CAMILLA HODGKINS FROM RHUBARB RHUBARB ORGANICS
Rhubarb Rhubarb Organics is a family business that has been at the Preston Market for 18 years, providing quality organic fresh produce and groceries. It has continued to grow and evolve over the years, recently moving into a bigger shop front and always expanding our range of products. Our specialty is quality fruit and veg and friendly customer service.
I have worked here for four years, and love the bustling team environment in our shop, along with all the lovely customers. I love that you can do all your shopping at the Preston Market, supporting small businesses and saving money compared to prices at supermarkets. There are florists, nut shops, delis, butchers, fishmongers, spice and coffee shops, bakeries and many more, not to mention all the wonderful fresh fruit and veg!
I'm passionate about cooking and fermentation, and have run workshops at Preston Market on pickling, sauerkraut and kombucha. I love talking to customers about how they can do these things at home and my favourite ingredients to cook with are silver beet, tempeh and organic milk.
THE RECIPE
Ingredients:
1kg small to medium Sebago potatoes
(see Tip)
1 tsp salt flakes
2 small Lebanese cucumbers, chopped
½ cup Kalamata olives, pitted and halved
¼ cup capers, drained
1 tbs fresh thyme leaves (see Tip)
1 tbs fresh oregano leaves (see Tip)

Dressing:
½ cup extra virgin olive oil
¼ cup white wine vinegar (see Tip)
Quick-pickled red onion:
1 small to medium-sized red onion, chopped
or sliced
½ cup white wine vinegar or any other
vinegar
METHOD
Place potatoes and salt in saucepan and cover with
cold water. Bring to boil and then reduce heat and
simmer until skewer goes through potato smoothly,
about 30 minutes. Drain potatoes and transfer to a
chopping board or plate. When cool enough to handle,
peel off skins, cut potatoes into rough cubes and place
in a mixing bowl.
While potatoes are cooking, prepare Quick Pickled
Red Onion by combining red onion, vinegar, water, salt
and sugar in a small deep bowl. Cover and set aside for
30 minutes (see Tip).
Combine prepared potatoes with cucumber, olives,
capers, herbs and pickled onion. To make the dressing,
whisk together olive oil and vinegar. Pour over potato
mixture, tossing to combine. Season with salt and
pepper and transfer to serving bowl or individual
plates.
Tips: Try using small Chat potatoes, which are delicious boiled or steamed whole or halved and usually eaten with their skins on. When using Chats, you can reduce the cooking time. You can replace the fresh thyme and oregano with 1 tsp dried thyme or oregano leaves. For a change, Camilla
likes swapping the white wine vinegar with brown rice vinegar, which has a 'strong bitey flavour'. You can prepare the Quick Pickled Red Onion more than 30 minutes before needed and store in refrigerator for up to 24 hours.